Summer 2016 Sunglasses
What's been the hottest sunglasses since the 1930's and hasn't died down since? Aviators are certainly one of my favorite sunglasses to wear all year around, especially in the summer. Aviators been a fashion statement since 1937 when the Rayban Aviators were born. In the 1960's the Rayban Aviators were really popular particularly for pilots and police officers. Another reason why rayban aviator's its America's favorite sunglasses is because the glasses are unisex and looks good on both male and female. Aviators are always good to put on when you don't feel like putting makeup on also :) Tom Cruise is one of the top actors who is known for his Rayban's collections in many movies he shots and made it a fashion statement. After the movie, Risky Buisness, Tom Cruise increased Raybans sales 50% after that movie was released.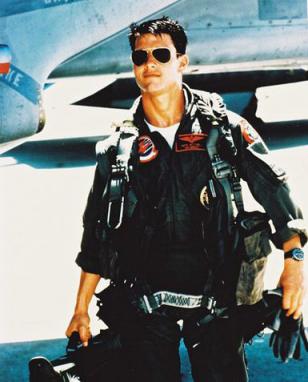 Tom Cruise, 1986 Top Gun wearing Rayban Aviators
I received these Rayban's from Great Eye Glasses which are definitely my new favorite item for Summer 16'. They offer a great selection of beautiful Raybans including the Wayfarers, Clubmasters, Aviators and the Erika. They provide all different type of glasses from a hipster vibe to a sassy type and also have glasses for different seasons including hunting. Great Eye Glasses is a great company that makes prescription glasses more affordable for families. The two founders of the company believed no one should have to pay 400 dollars for prescription glasses and that's how Great Eye Glasses was originated. The two founders also have another huge passion besides glasses and that's music and support a lot of music programs. With every purchase of eyeglasses, is more money for them to be able to help kids get a music education. Just like many of us music plays a huge part of our lives and I know a lot of people who wish they could have pursued their music career but society and parents sometimes tell them its not ideal. However, at the end of the day, music relaxes our soul especially after a long day. Music is art that relates to us and we feel like we know musicians just from their music and that special connection you feel from just listening and feeling their music and emotions.